whitewater Kayaking all inclusive 9 days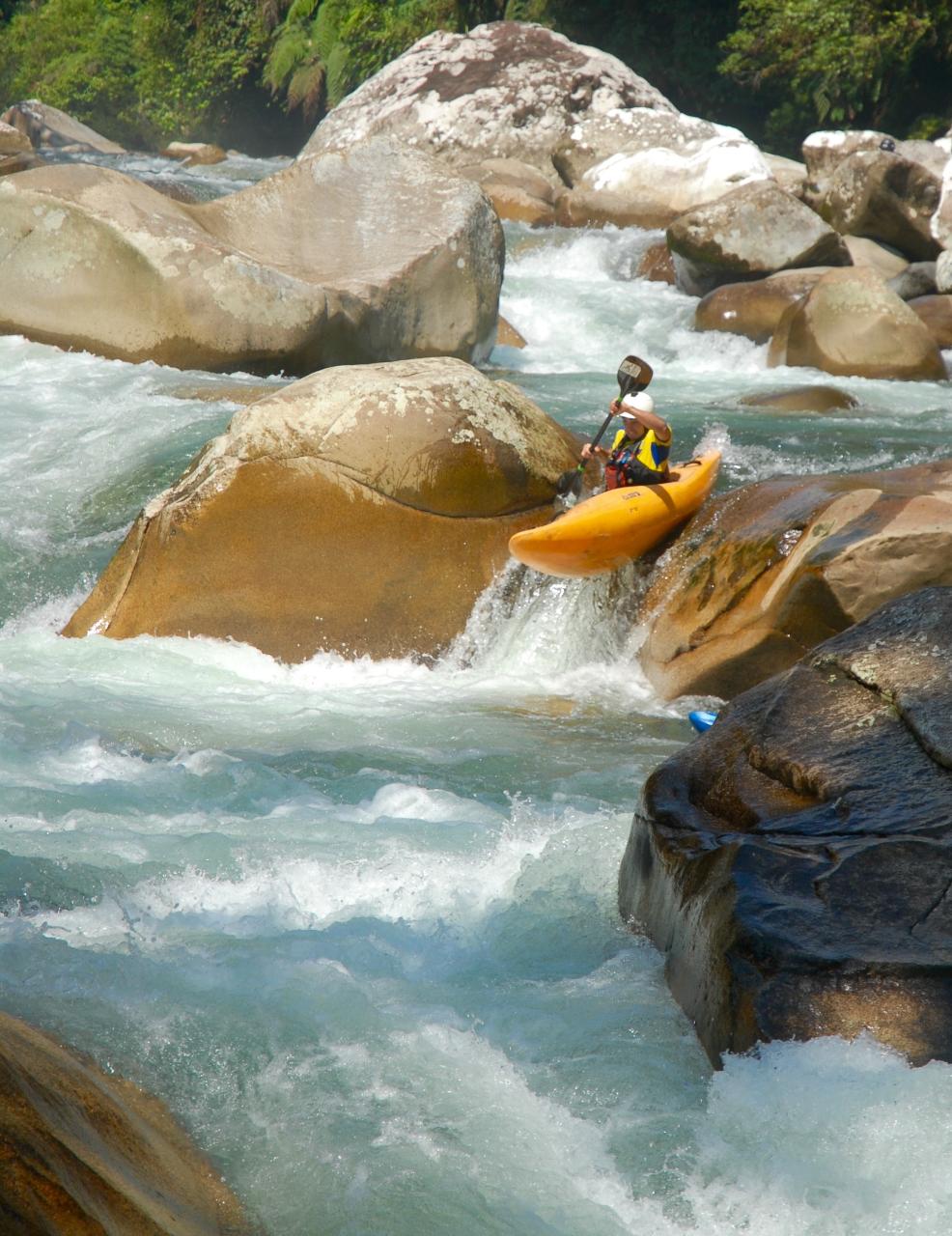 Duration: 9 Days (approx.)
Location: Baeza, Napo
Product code: ecuador kayaking
ITINERARY:
Arrive to the Airport. We will pick you up and then head to Tena. On the way we will stop on Papayacta's Hot Springs. After 3 hours into the jungle we will unpack in your hotel in Tena, select your kayak and have a meeting to talk about the next 8 days of paddling. Expect a great Wellcome Dinner.

Good Morning Ecuador! Get ready to paddle all day in Jatunjaku River (III-III+) About 26 miles of pure fun on Big Water! Lunch today will take place in one of the beatifull beaches of this Epic River!

Today we are going Steep! We will paddle on the Upper Misahualli (III-IV+)to warm up our creek Skills. Depending on the group we can do up to 2 runs.

Get ready to paddle in turquoise waters in the middle of the jungle on the Middle Jondachi, have lunch at the river bank right where the Hollin River meet us! Long day of paddling!

Piatua River! Lots and lots of bofos are waiting for us today! We will travel 50-60 min to our next hotel, right next to the Piatua River. After we unpack, eat and rest for a bit we will go for a run of the lower section.

Upper Piatua, bigger Boofs! Today We will run this river all the way down! After lunch we head to the Quijos Valley!

Great day for big water and small canions! Wellcome to Quijos River. We will paddle the "Borja" Section, and then do a tour around the area.

Bridge to bridge on the Quijos. Say "see you later" to Ecuador with style! Expect a great dinner , party and the presentation of your personalized video and pics.

Pack your Staff! Last breakfast with us, and wride to the Airport or Quito if you are plannig on visiting mor of Ecuador!
You will be served 3 Meals a day; Breakfast, Lunch and Dinner.

Snacks are also included.

Cold beverages (non alcoholic) are included.

We are going to travel on the Kayak Ecuador Truck, and if the group is to big we will ask help to a Mini Van.

You will share a room with another kayaker of the group, unless you choose a single room (if available + $30 per night)

Our ratio Guide-Clients is the next one.
Airport pickup

All accomodations

All transportation

All meals from dinner day 1 through breakfast day 9

Kayak

Guides

Photo and video
ITEMS THAT ARE NOT INCLUDED:
Airfare to and from Ecuador

Personal Kayak Equipment (unless beginner or novice)

Beer and all alcoholic drinks

Guides gratuities

Souvenirs
4 or more Paddlers: $100 per person

7 or more Paddlers: $150 per person

10 or more Paddlers: $130 per person and organizer pays NOTHING!
1-3 paddlers: 1 guide+ 1 Videographer/ photographer

4-7 paddlers: 2 guides + 1 Videographer/ photographer

7-10 paddlers: 3 guides + 1 Videographer/ photographer




* Profesional photo and video at the end of your trip is included